OUR MISSION
Our center aims to popularize Maharishi Ayurveda, a science that encompasses all the aspects of the well-being of living beings, the physical, the psychic, and the spiritual in that the human life is made up of sense organs, mind and soul.We are specialists in Ayurvedic medicine and we offer and perform the purification process called Panchakarma in its authentic formca described in the Charaka Samita
HEALTH ACCORDING TO AYURVEDA
One whose Doshas (basic life principles) and Agni (metabolism and digestive power) are in balance, whose Dhatu (tissues) and Malas (elimination products) function normally, and whose self, soul and senses are imbued with happiness, such a one is defined as a healthy person.
Sushruta, XV 38, Ayurveda Reference Book.
WHAT IS AYURVEDA?
Ayurveda, the "science of life," originates from the Ancient Vedic Civilization.
Practiced in India for thousands of years, it is the oldest natural system for the care and well-being of the body and mind.
In collaboration with leading Ayurvedic experts, Maharishi Mahesh Yogi in the early 1980s restored Ayurveda to its original glory.
This is how this approach in its purest and most complete form is now known as "Maharishi Ayurveda."
It is a system of medical knowledge handed down in India from time immemorial, not only geared toward curing disease but more importantly toward a way of life that promotes health and disease-free longevity by correcting subtle imbalances in the body before they manifest as pathological phenomena.
WE ARE.
Our center offers the expertise of a group of people who have been experts for more than 30 years in "Maharishi Ayurveda" Ayurvedic medicine recognized as the most authentic in India and in the world, not only of medicine but also of all that Vedic Science offers Transcendental Meditation – Stapathya Veda (eco-friendly architecture) – GandharvaVeda (music therapy) – Jyotish (Vedic astrology).
Helping people to be healthier and treating those with health problems is our goal by making use of a treasury, knowledge and experience of Ayurveda dating back more than 3500 years. Each person is a unique being, and we always take this into account when approaching a diagnosis and therapy.
Our technicians, including physicians and physical therapists, receive specialized training at Maharishi University through long and in-depth courses. We work with experienced Indian Vaidya (Ayurvedic doctors), who are occasionally present at the center, including Dr. J.R. Raju, Dr. Pavani Chakrahari Raju and Dr. Aditya Chakrahari Raju.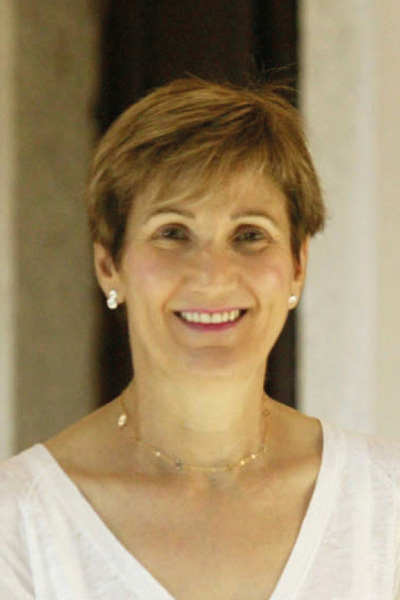 Dr. Patrizia Raitieri
Having graduated in Medicine and Surgery from the University of Milan and specialized in Psychosomatic Medicine, she felt to continue her studies in search of a discipline that could complement her studies: she recognized this in Ayurveda, which aims at the aspiration of a long and healthy life with a balanced lifestyle based on the 3 pillars : BODY MIND SPIRIT. Immediately he senses that it will be part of his life. Thus began a long a course of study in Ayurveda that would lead her to specialize at Maharishi University, to meet with India's leading Vaidya Physician experts. In his various years of schooling he learned the Practice of Panchakarma and The Diagnosis of the Pulse, which he also deepened with trips to India. His approach to health draws resources from this ancient and paradoxically "modern" Vedic medicine. He devotes himself body and soul to the art of Ayurvedic healing. As she says, "It is my life's purpose."
He is a lecturer in Ayurveda at the Italian Association of Physicians for Maharishi Ayurveda and the Vedic Approach to Health According to Maharishi. Founder of the Maharishi Lake Orta Ayurveda Center, she is in charge of all clinical aspects and therapies and prescriptions for the center's guests.
His integrated approach-Traditional Medicine, Psychosomatic Medicine, Ayurveda Medicine, Experiential Techniques-takes into consideration all aspects of the individual Body Mind Spirit in relation to the universe and its laws of Nature helping people on their healing journey and making all this valuable knowledge available to them. If you want to learn more about traditional Ayurveda, its development and possibilities, talk to her about it during your next visit to the center-her wisdom and empathy will engage you.
Medical degree from the University of Milan.
Since 1990 specialized in Psychosomatic Medicine and Ayurvedic Medicine of the Indian master Maharishi Mahesh Yogi.
Specialization in Wrist Diagnosis (Nady Vigyan)
ASL-contracted general practitioner.
Diploma of Ayurvedic Massage Technician from Maharishi University in Seelisberg, Switzerland
In 2008, he founded the Maharishi Ayurveda center Lago D'Orta together with her husband Tommaso Iuliano.
Tommaso Iuliano
Professional photographer has met in his career in Italy and Europe thousands of people in the business world. He told through his photographs about art, their talent and ingenuity, love and passion for their craft.
In 1998 he and his wife Dr. Patrizia Raiteri established the Maharishi Ayurveda Center Lago D'Orta. Driven by a desire to share the knowledge of Ayurveda with others, he founded one of the first residential Ayurveda centers In Italy so as to introduce this healing art to a wider audience, thus creating a space where sharing and knowledge can be the nourishment of a new land. A space that helps and supports anyone's health and helps turn their dreams into reality.
He is the administrative manager of the center, in charge of communication, guest reception, and staffing. He loves to take charge of every need or necessity that guests bring up. Has an a overarching view of the organization, constantly implementing any initiative to improve the efficiency of the center.
Alfredo Foglia
Ayurvedic technician since 1992 with diploma from Maharishi European Research University in Seelisberg-Switzerland. He deepened knowledge related to Panchakarma by collaborating in the "Program for Chronic Diseases "desired by Maharishi at Meru in Valkenburg-Holland.
He attended the two-year " Maharishi Ayurveda Training Course for Health Professionals" taught by Dr. Ior Guglielmi and Vaidya Manohar Palakurti.
He has worked at Maharishi Ayurveda Health Centre in Seelisberg, Switzerland, Maharishi Ayurveda Center in Stockholm, and Maharishi Centers in Italy (Rome, Verona, Lago Maggiore, Maharishi Ayurveda Center Lago D'Orta).
He has been practicing Transcendental Meditation since 1988 and Siddhi Techniques since 1991.
Ayurvedic technical coordinator and Panchakarma treatments at Maharishi Ayurveda Lake Orta. Welcomes and supports clients.
Our staff
Our staff consists of Maharishi Ayurveda experts: doctors, naturopaths, Ayurvedic therapists, osteopaths, Transcendental Meditation and Yoga teachers. All staff practice Transcendental Meditation.
Helping people to be healthier and treating those with health problems is our goal by making use of a treasury, knowledge and experience of Ayurveda dating back more than 3500 years. Each person is a unique being, and we always take this into account when approaching a diagnosis and therapy.
Our clients frequently return to our center thus confirming their appreciation for our work.
WHY COME TO OUR CENTER?
Our experience of more than 30 years has enabled hundreds of people to learn about Ayurveda and its benefits.
Our expertise: specialized doctors and therapists trained at Maharishi University.
We have direct contact with one of India's leading families of Vaidya Doctors: Dr. Raju J.R. is an eminent Ayurvedic Physician, thirteenth generation of Ayurvedic doctors, whose family tradition has produced many generations of Vaidya in South India .
Our Ayurvedic treatments: we have over 30 Ayurvedic treatments and 7 integrated packages that allow you to choose the best treatment for each person .
Our cuisine: ayurvedic menus with the flavor of India but also our best traditional Italian cuisine revisited according to ayurvedic principles. Everything is strictly organic.
Our attention to guests: we take care of guests in every aspect of their stay; from personalized care, to their relaxation , to special requests, to meeting every need that arises.
Our team: a group of professionals as well as friends who have made Ayurvedic philosophy their way of life in harmony with human beings and nature.
Our Transcendental Meditation teachers: The name describes what happens while practicing it: the mind naturally quiets down and experiences more subtle levels of thought, until it transcends the level of mental activity and experiences the source of thoughts, the state in which the mind is awake but not active.
Today it is available to everyone through an easy learning course for everyone.
The environment during your stay: at the center you meet interesting people with whom to exchange experiences and cultures united by the same desire: to be healthy and in harmony with the earth.
Casa Mirabello: in a wonderful setting near Lake Orta, the staff will welcome you with kindness and warmth to make your stay as comfortable and beautiful as possible.
These institutional activities carried out by the Association are in addition to a number of commercial activities, carried out on a non-prevailing basis and within the framework of Law no. 398/1991, such as room and board for course participants. The presence of so many Members, from all over Italy and abroad has an obvious positive impact on our Community. The Association is committed on a daily basis, through its structures and organization, to the dissemination of the principles laid down in the Association's Statute and institutional disciplines aimed at the development of the individual and his relationship with the world around him. The Association has an ambitious program that consists of introducing Ayurveda and Ayurvedic Medicine to as many people as possible.