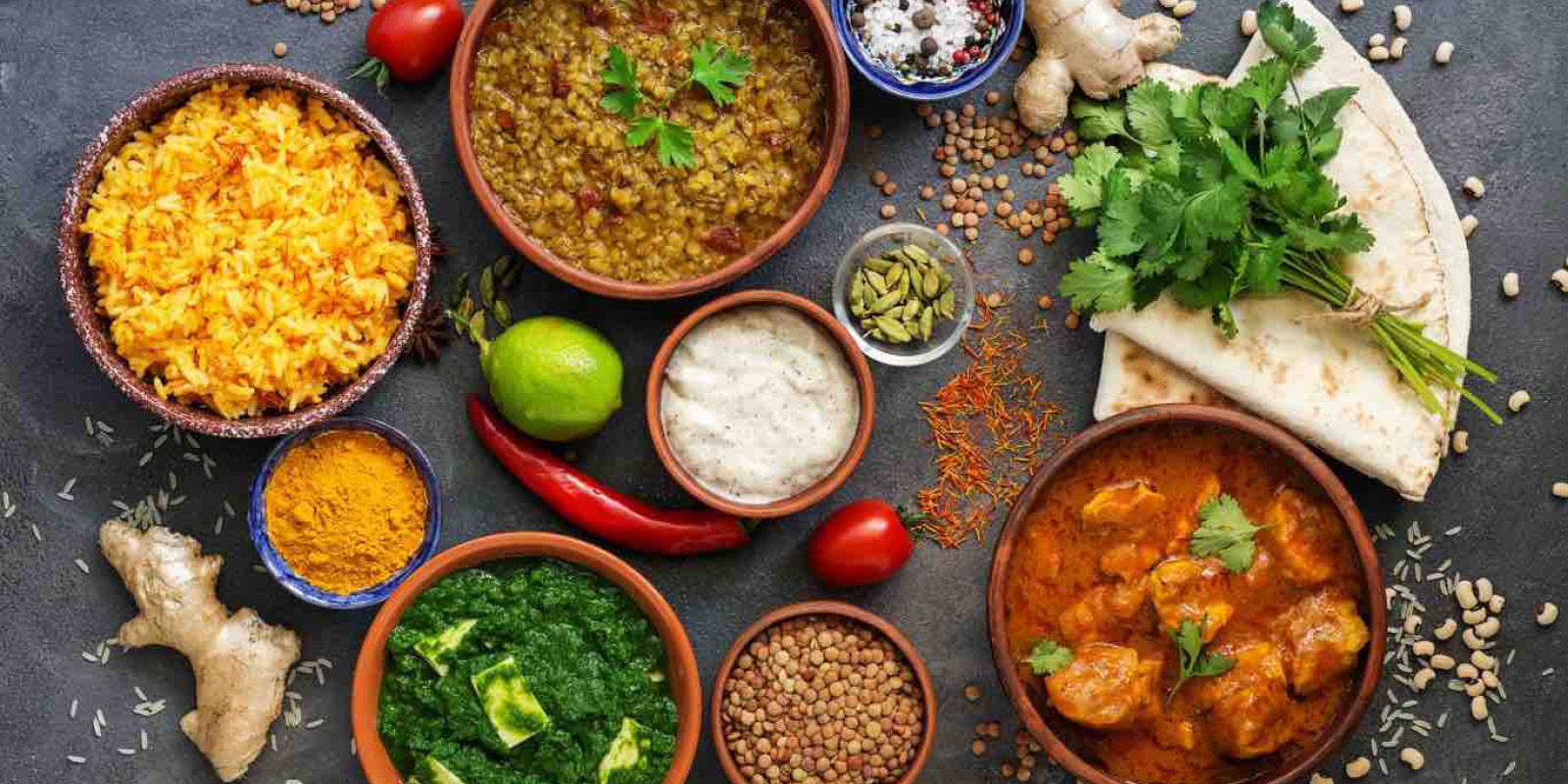 Natural and fresh food
In our restaurant the Chef will delight you, every day, with two hot dishes prepared in accordance with the various stages of your care. Only the best organic ingredients are used here, and all dishes are prepared fresh, on the spot. We never use precooked or reheated foods. The result is delicious and healthy food that stimulates and satisfies all the senses.
Special food – adapted to your type of treatment
The Panchakarma cure is an intense detoxifying program, not only for your cells and tissues, but also for your digestive system. Therefore, we ensure a delicious vegetarian menu with easily digestible foods during your stay, which will not make you regret your usual diet. Instead, you will discover new recipes and appreciate more delicate tastes.
"ALL FOOD SERVED IS STRICTLY AND GUARANTEED ORGANIC."
The clever use of herbs and spices adds more flavor to the food and makes it more digestible.
In our weekly diet lectures, you will receive many tips on the balancing properties of Ayurvedic cuisine. It is also possible, upon request, to observe our cooks at work.
Spices
The art of spice use is closely related to the teaching of Ayurveda. The intelligent use of herbs and spices not only gives more flavor to food, but also makes it more easily digestible, thus increasing the success of your treatment. Our doctors assure that Ayurvedic knowledge has been adapted to the Germanic climate. Our Chef, who is an expert in his art, assures you that the use of spices complements each dish and satisfies any taste.
THE RECIPES.
Chapati
per 750 grams
350 gr white flour 250 gr type1 flour
150. gr. Whole wheat flour 1 tablespoon oil
1 pinch of salt 400 ml of water
Dahl
Lentil dahl is a very spicy Indian dish that you can serve as a soup or as a side dish, perhaps accompanied by a stew of seasonal vegetables. In the preparation of lentil dahl, turmeric and ginger and the Indian spice mix that we call curry in Italy cannot be missing. Dahl is an alternative idea for cooking and serving lentils year-round, but you will especially love it in the winter months, since ginger is a spice with a warming effect. Here's how to make your own lentil dahl at home, starting with hulled red lentils.
Ingredients for 2 people
250 g hulled red lentils 500 ml water or vegetable broth
2 tablespoons extra virgin olive oil 1 small piece fresh ginger
1 teaspoon turmeric powder
1 teaspoon curry
1 tablespoon chopped coriander leaves 1 pinch black pepper
1 pinch of ginger powder
1 carrot
Preparation:
To prepare this recipe, choose hulled red lentils: they do not need to be soaked, cook in a short time and are more digestible for those who are not used to eating legumes. Alternatively, if you can find them easily, you can use yellow lentils. Red lentils can be found in supermarkets, organic food stores, and fair trade stores. Sometimes in supermarkets you can buy them in bulk, paying by weight only the amount you need. Wash the carrot, peel and chop it. If it is organic, simply brush it off and use the peel as well. Chop the carrot together with a small piece of fresh ginger, after peeling, on the cutting board. In a frying pan, heat two tablespoons of extra-virgin olive oil and cook the two ingredients over medium heat for a few minutes, like sautéing.
If the flavor of fresh ginger is too strong for your taste, do not use it in this recipe, but simply season the lentils with a pinch of powdered ginger. You can also substitute fresh ginger for a small shallot. Meanwhile, pour half a liter of water (adding a pinch of whole grain salt only toward the end of the lentils' cooking time), or vegetable stock, into a large pot and bring to a boil. Combine the red lentils, turmeric, curry, ginger powder, ground coriander, and a pinch of black pepper. Stir well and cook over medium heat for about 20 minutes. The lentils should soften and begin to flake. Thanks to the turmeric and curry, they will take on a nice bright yellow color. By the end of cooking they will have absorbed almost all the water or broth you used. Only if needed, add a little more liquid while cooking. Stir occasionally with a wooden spoon to prevent the lentils from sticking to the bottom of the pot. When they are ready, pour them into the pan in which you prepared the ginger and carrots. Turn the stove on low heat and stir well. Taste and if you want to add some more black pepper, herbs or spices for flavor. You may decide to blend some of the lentil dahl before serving it in soup plates or bowls. Accompany the lentil dahl with homemade bread croutons or from chapati, a typical Indian bread. A small variation for those who like stronger flavors: along with the ginger and carrot you can brown a small chopped shallot in a pan and then add it to the lentils, as explained in this recipe. In addition, it is usually more common in India to use sesame oil than extra virgin oil for cooking and seasoning, but in this case we have adapted the recipe in part to the customs of Italian cuisine. Serve the lentil dahl by garnishing the dishes with fresh or dried cilantro leaves (dried cilantro is easily found along with more common herbs at the supermarket or organic store, while fresh cilantro is usually never lacking in ethnic stores). You can choose parsley as an alternative to cilantro; the overall taste of the dish will be more delicate and Mediterranean.
Khichari
Nutritious food from the Ayurvedic tradition; simply it is rice and hulled lentils (better lentils called "MUNG DHAL") cooked together for a long time until a thick, creamy soup is obtained. Suitable as a soup for dinner or a light meal or as a nutritious dish for a young mother or convalescent.
For 3-4 people:
Water 2 3/4 cups
Mung Dhal 1/2 cup
Basmati rice 1/4 cup
Salt 1 teaspoon
Vata Churna (in pharmacy) 1 teaspoon
Ghee 3 tablespoons
Cumin 1 teaspoon
Mustard seed 1 teaspoon
Saffron 1/4 – 1/2 teaspoon (no for PITTA)
Preparation:
Bring 1 1/2 cups of water to a boil and then add lentils, salt, Vata Churna and the other spices; cover, let boil and then reduce heat and continue to cook for one hour. Add rice, 2 tablespoons ghee, remaining water, bring back to a boil, lower heat, and let cook for 1/2 hour. Stir frequently to prevent sticking and add water if it becomes too thick. When ready to serve, heat the remaining ghee in a saucepan with cumin and mustard seeds, when the mustard seeds crackle stir in the Khichari and serve.
YOGURT, BUTTERMILK AND LASSI
Yogurt
In Ayurveda it is said that Yogurt increases appetite and strength; increases Kapha Dosha, decreases Vata and aggravates (imbalances) Pitta. Yogurt has hot qualities and an acidic taste, so it is contraindicated for those with Pitta-type problems (gastric disorders, gastritis-ulcer type-acidity in general).
Yogurt and cheese should not be taken in the evening because they tend to close the body's channels if they are not well digested. However, yogurt should always be sweetened or taken with other foods, rather than alone. The cultures in yogurt are beneficial when they are alive and active, so you should not heat or cook them to avoid killing them.
Ayurveda claims that the best way to take yogurt is in the form of Buttermilk or Lassi; two recipes in which simply yogurt is diluted with water. For both recipes, it is ideal to use homemade yogurt
Buttermilk
1 part yogurt + 1 part water (not hot)
Preparation:
mix in the blender at low speed; after 1-2 minutes the fatty part will separate, coming to the surface, remove it with a paddle, what remains is the Buttermilk; add spices if desired:
Vata salt, or cumin, or sweeten it Pitta raw or brown sugar
Kapha ginger, black pepper, and a little honey.
Lassi
1 part yogurt + 3-4 parts water, plus spices as above. They can be drunk at lunch, during and after a meal.
These two drinks have different effects from yogurt alone. They strengthen and improve digestion and appetite. They pacify (balance) all three Doshas and are considered very useful for each. The use of spices in general in Ayurveda is highly recommended to promote digestion and thus good formation of body tissues and good elimination of harmful substances, thanks to the antioxidant effect of the essential oils contained in spices.
Sweet Lassi
for 4-6 people
1 cup yogurt, 1 cup water, 3 tablespoons brown sugar or date sugar
Ingredients for seasoning:
a pinch of cardamom, 3 drops of rosewater, a sprig of fresh mint, 1⁄2 cup of mango pulp, 1⁄2 teaspoon of lemon zest, 1⁄2 teaspoon of orange zest, a pinch of salt, and two pinches of pepper. Other flavors to add possibly: banana, berries, kiwi, ginger, dates.
Preparation:
Mix the basic ingredients in a blender. Season to taste by stirring in the remaining ingredients. Filter if necessary.
Ginger aperitifs
for 6/10 people
2 fresh ginger roots, 1/4 cup sweetener (rice syrup or honey, according to taste)
Preparation:
Clean fresh ginger and squeeze it in a centrifuge. Slowly add the honey until the ginger juice gets a slight sweet taste, normally serving two parts ginger to one part honey. Drink in small sips before eating.
1 fresh ginger root, 1 squeezed lemon, coarse salt
Preparation:
Clean and peel fresh ginger then finely chop it. Add lemon juice and a pinch of coarse sea salt.Take a small amount before you start eating.
Pasta with vegetables
for 4/6 people
In this recipe the vegetables are used to season pasta (macaroni, penne, celery, shells, rice, etc.), but they could make an excellent side dish.
3 vegetables of your choice (cauliflower, peas, tomatoes, zucchini, celery, carrots, green beans, diced fennel),black mustardseeds, turmeric, cumin seeds, curry powder, coconut flour, raisins, almonds, yogurt, ghee.
Preparation:
Cook the vegetables until they are well cooked but still crisp. In a saucepan, heat the ghee, add the black mustard and cumin seeds, toast them until they crackle. Add yogurt until a milky sauce is obtained. Add turmeric, raisins, toasted almonds, and coconut flour. Stir the sauce into the vegetables and serve.
Ginger Vegetables
for 4 people
700 g fresh mixed vegetables to taste (carrots, cauliflower, celery, squash, cabbage, etc.), 1 1/2-inch piece of ginger, 2 tablespoons ghee (clarified butter), 1⁄2 teaspoon saffron, 1 teaspoon cumin, 1 cup vegetable broth, salt and pepper.
Preparation:
Peel the ginger with a very sharp small knife and cut it into strips as thin as possible. Sauté the ginger in a saucepan where you have previously set the ghee to melt; stir thoroughly for a couple of minutes. Add saffron, cumin, and cleaned and chopped vegetables. Season moderately with salt and pepper and continue stirring. Wet with vegetable broth, cover.
and cook for 15 minutes or until the vegetables have reached the consistency for you (more or less cooked), but still crisp. They will be a great side dish to a dish of Basmati rice pilaf.
Cabbage with spices for 6 to 8 persons.
1 cup cabbage florets, 2 tablespoons extra virgin olive oil, 1 teaspoon chopped ginger, 1⁄4 cup sesame seeds, 1 fresh red pepper, salt and pepper.
Preparation:
Steam the cabbage florets for 3-4 minutes. It must be crispy. Place it in a bowl. Heat the oil in a large frying pan. Add the ginger and sesame seeds. Fry over moderate heat until the seeds crackle. Add the cleaned and chopped chili pepper. Stir again. Add the florets to the pan, season with salt and pepper. Stir well and cover. Let it cook for a few minutes. Serve hot.
Samosa stuffed with vegetables for 24 Samosas
2 cups flour (white and whole-wheat), 1 teaspoon salt, 3 to 4 tablespoons ghee or sunflower or corn oil, 1/3 cup whole-wheat Yogurt, cold water to taste.
For the filling:
1 teaspoon cumin, 1 teaspoon coriander, 1 teaspoon fennel, 3 to 4 tablespoons ghee or oil, 1 teaspoon cloves, 1 teaspoon cinnamon powder, 1 white cauliflower, 1 cup lentils, 1 teaspoon turmeric, salt to taste
Preparation of samosas:
Put the flour, salt, oil, and yogurt in a bowl. Gradually add the water and, stirring with a wooden spoon, mix all the ingredients until smooth and soft. Now move the dough to a floured pastry board and knead vigorously with your hands. This will eventually result in a soft, elastic dough. Form into a ball; grease it with oil and let it rest covered for about an hour. During this time, vegetables are prepared for the samosa filling.
Vegetable preparation:
Dry-roast in a frying pan over moderate heat the cumin seeds, coriander, fennel, cloves and cinnamon powder. Let it cool and then grind it up. Steam the previously cleaned, cut and washed cauliflower florets. Boil the lentils in plenty of water. Heat the ghee in a pan, add a level tablespoon of the ground spices. After a few seconds, add the pieces of cabbage and the cup of boiled lentils, stir, season with salt, and sprinkle with a teaspoon of turmeric. Stir again for a few minutes, remove from heat and let cool. Turn the oven on to 200°. Now take the dough and knead it again. Make a large "salami" out of it and cut it into about 12 equal pieces. One at a time, always flatten them out on the floured pastry board and with a rolling pin form small disks about 10-12 cm, in diameter. Cut them in half and moisten the straight edge. Place a spoonful of the prepared vegetables on the right side of the half-disc. Close again, and use your fingers to press down on the previously moistened straight side, while using the tines of a fork to press down the round edge of the samosa. Place the samosas on the baking sheet and bake them for about 20 to 25 minutes. Before putting them in the oven, if you like, you can brush the samosas with ghee. At the end of baking, the surface will appear "frosted."
"Diet is anything that is taken from any field of perception, through any sense of perception, any mode of the mind and any mode of the intellect." (Maharishi)